Prosperous Universe
Prosperous Universe is a massively multiplayer economy sandbox simulation in a realistic sci-fi setting played through a customizable expert user interface in your web browser.
The game went into First Access in December 2018, with over an hour of tutorial videos already available to our early adopters. Have a look at the first tutorial video to see what Prosperous Universe currently looks like. The game is DRM-free and it runs in web browsers on PC, Mac and Linux.
Gameplay
In Prosperous Universe, you are the CEO of your own spacefaring company. Explore the galaxy, design spaceships, forge alliances, and most importantly: produce, trade, transport, and profit. Your business is managed entirely through a highly customizable user interface named APEX, which is accessible via web browser on any desktop computer. Thousands of players share the same, persistent universe, contributing to a single, purely player-driven economy. A true sandbox game, Prosperous Universe allows for unique experiences, a multitude of play styles, and all different levels of time investment with no grind to speak of. You may play for free or pay a monthly subscription to become a Premium user – Prosperous Universe will never be a place for microtransactions or pay-to-win. With its emphasis on realism in everything from the economy to space travel, Prosperous Universe provides a unique experience to players of all backgrounds.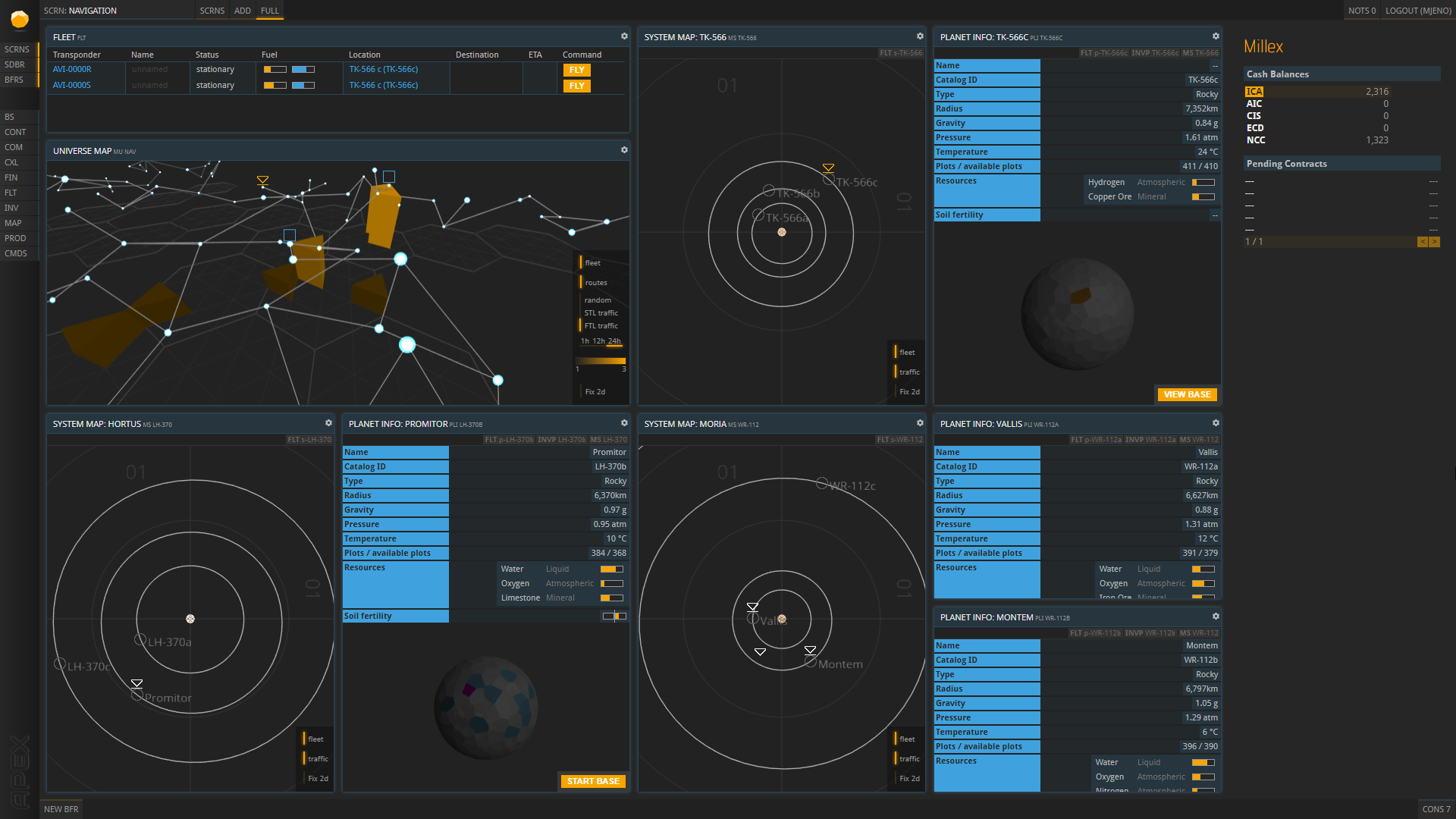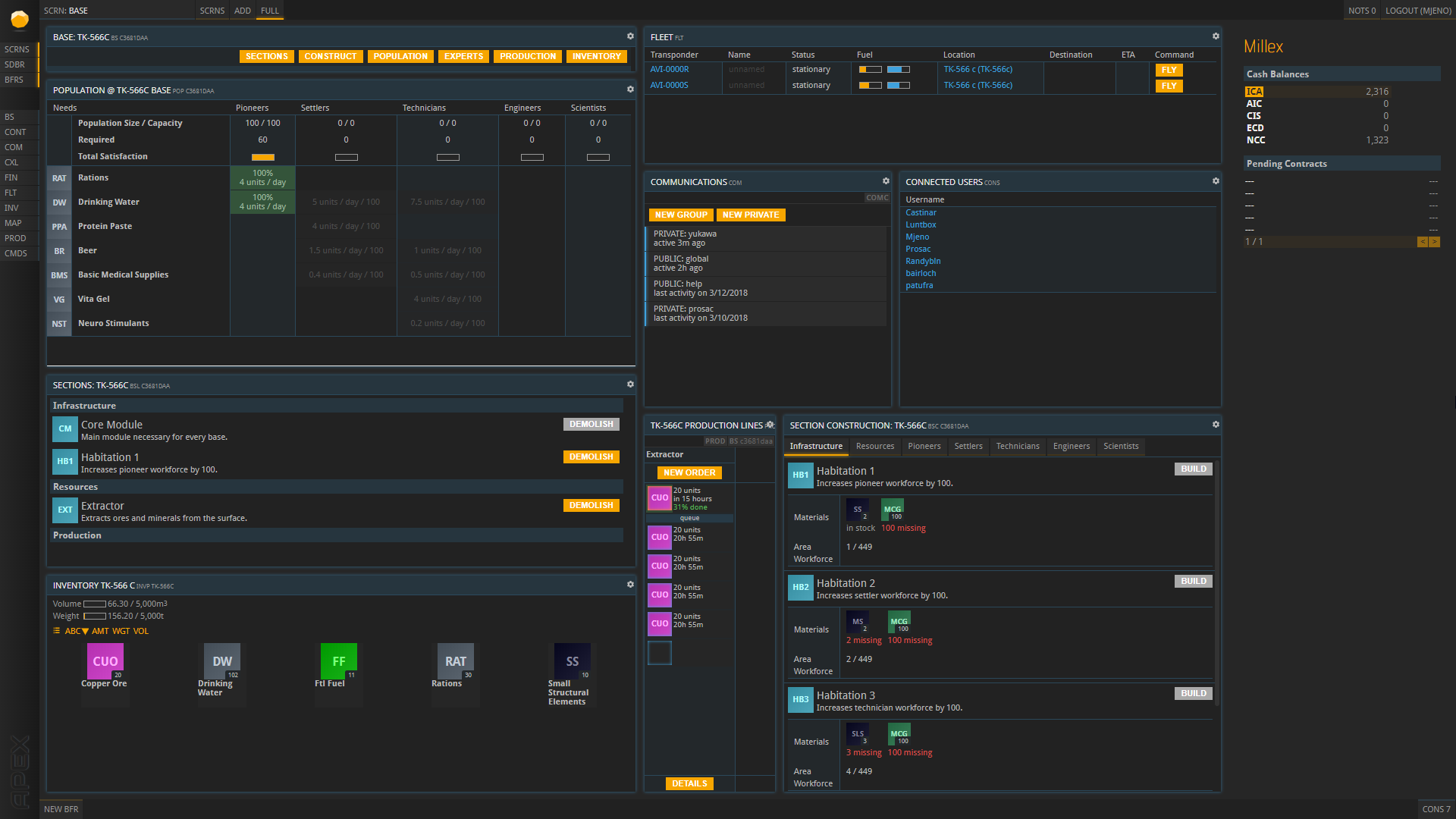 Example interface setups for navigation and production

Space flight tutorial
Setting
The game's setting is rooted in "hard" sci-fi, with no alien races or over-the-top technology to speak of. In the near future, humanity will discover an asteroid threatening to destroy Earth a mere hundred years later – just enough time to construct generation ships and leave the planet for good. The game begins right in the aftermath of Earth's destruction, with different factions setting up colonies on new worlds.
Art style
The APEX interface prefers usability over sci-fi flavor, although a big visual overhaul is coming later this year. Outside the game itself, Maciej Rebisz creates artworks for promotional purposes:
About us
We are simulogics, a small independent game studio located in Germany. We craft simulation games for experts.
So far, this includes the airline management game AirlineSim (2002) and the space economy sim Prosperous Universe (2018). Both are browser-based MMOs providing their players with great freedom, realism, depth, and fair monetization models.
Part of our expertise stems from a long history of contract work. We have created web-based applications and tools for over a decade, with a strong focus on aviation, transport and logistics. These extensive insights into real-world systems have greatly informed the deep and realistic game design our fans have come to expect from us.
-------
Check out our weekly development log here on Itch.io, subscribe to our newsletter or sign up for testing in this forum thread!
| | |
| --- | --- |
| Updated | 15 hours ago |
| Status | In development |
| Platforms | HTML5 |
| Authors | Mjeno, quixoticproject |
| Genre | Simulation |
| Tags | browser, business, Massively multiplayer, MMORPG, Multiplayer, online, Sandbox, Sci-fi, sci-fi, user-interface |
| Average session | A few minutes |
| Languages | English |
| Inputs | Keyboard, Mouse |
| Multiplayer | Server-based networked multiplayer |